1) To be a part of the Keysight Xmas 2018 competition, simply complete the registration form below.
2) All registered participants will receive an email with a link to the contest web page on the 14
th
Dec 2018.
3) On the day of contest, you will see 3 questions related to Keysight Oscilloscopes and Power Supplies, submit the answers as quickly as possible.
4) The first 6 people who answered all the questions correctly will receive a free 1000X series oscilloscope or power supplies. The other 40 winners will receive
eGift Cards
.
Registration Opens: 14
th
Nov 2018
Registration Closes: 12
th
Dec 2018
Contest date: 14 Dec 2018
Prizes: 3 X InfiniiVision 1000X series Oscilloscopes DSOX1102G 70 MHz, 2Ch.
3 X E36102B DC Power Supplies.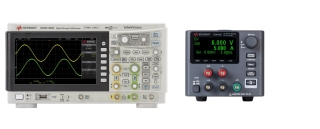 Eligible Country: Singapore, Malaysia, Thailand, Australia, New Zealand, Vietnam, Philippines, Indonesia.